Posts Tagged 'Bryan Walsh'
These are some photos from the opening of This Page Intentionally Left Blank. The artwork is by Bryan Walsh, Jeremy Rabus, and Amy VanDonsel, and the photography is by Drew Jones.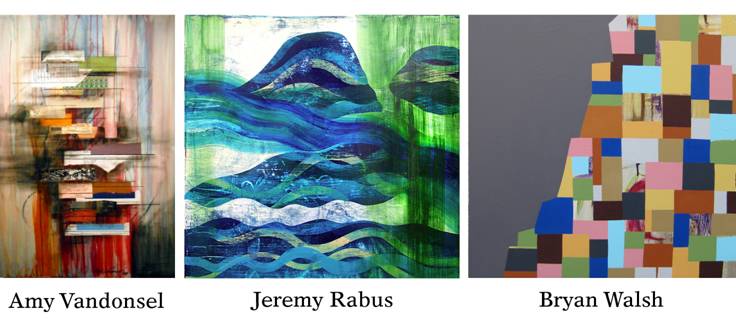 All new work by Jeremy Rabus, Amy VanDonsel, and Brian Walsh
Opening reception: April 23, 2010 6 – 10 PM
2646 Cherokee Street, St. Louis, Missouri 63118
Exhibition on view:
Saturday, April 24 & Saturday, May 1, Noon – 4 PM
Seen more frequently in the past, the phrase "This page intentionally left blank" sometimes still appears on official or
published documents. Consequently, one is usually struck with a natural curiosity about this phrase and it's purpose.
In the exhibition, This Page Intentionally Left Blank, the new work of Jeremy Rabus, Amy VanDonsel and Bryan Walsh will
address and investigate the visual and psychological effects of the appearance of this phrase on some printed materials.
Amy VanDonsel combines mediums – including acrylic, pastel, and found paper – to explore the perception of figure versus ground. Her work for "This Page Intentionally Left Blank" examines spacial boundaries by playing hide and seek with layers of objects and mediums. By exposing the supports of stained wood panels, the negative space is highlighted, and what is missing is revealed. "This page intentionally left blank" is an everyday kōan – a statement which is not understood by rational thinking, but rather by intuition. Curiosity about this familiar phrase, and its effects on discursive thought, leads to an exploration of pictorial counterparts to language phenomenon, such as "visual palindromes." Further imagery is inspired by hazy memories of number two pencils and ditto sheets, the smell of chalk dust, or pink-beige paint peeling from a row of lockers. Subverted maps, graphs and grids, blurring text, and forgotten love notes ask: "What really happened in your third grade mind when page six referred to itself?"
(Also check out the fantastic work of Rabus and Walsh: jeremyrabuspaintings.blogspot.com / iambwalsh.com)