Bio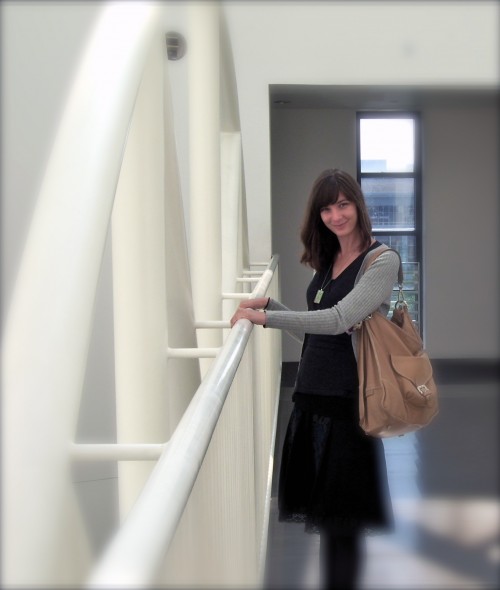 Amy VanDonsel is a mixed media artist.  She also works with non-profits and small businesses on development, public relations, and marketing. Originally from upstate New York, she has lived in Saint Louis, Missouri since 2000. She is currently the Director of Development and Marketing for the community-based visual arts non-profit St. Louis Open Studio and Gallery (SCOSAG.)
In 1998, she began her career by learning stagecraft and theatrical painting through volunteer work for community theatres and educational programs. She eventually became a full-time scenic artist and design assistant, collaborating on sets for theatre companies including the Muny, the Shakespeare Festival of St. Louis, and Stages St. Louis. She also created murals and interior finishes while working on renovation projects like downtown's Thaxton and Cosmopolitan buildings.
Although a large scale realistic painter by training and trade, Amy was always drawn to paper, books, text, script, and abstractions. She began exploring non-commissioned art in 2003 by collecting found items and incorporating text and texture into her painting through experimentation with bookarts and collage. As her work evolved, she developed her own techniques for combining disparate mediums on canvas or panels. Amy is currently working on mixed media paintings, installation, and paper sculpture.
Amy's work has been exhibited in several group and solo shows, and she takes individual commissions for paintings and illustration. Her gallery exhibitions focus on mixed media and installation, and she has also begun to specialize in commissioned projects illustrating concepts from academic and scientific projects for publication, such as the cover of Molecular Cell in 2009. She has also created interactive projects utilizing the visual arts as a corporate team building tool for clients including the Federal Reserve Bank of Saint Louis.
In addition to her art practice, Amy has nearly a decade of professional marketing experience and has worked for a non-profit arts organization for two years. She also currently serves on the Board of Directors for Poetry Scores, a non-profit with a mission to translate poetry into other media. Specializing in development, fund raising, public relations, marketing, community outreach, and programming support, Amy is available on a contract basis to support small businesses and organizations in the Saint Louis area.
In her spare time, Amy can be found at Bridge Tap House & Wine Bar or working on a gardening project, A1G AVD Cherokee Farmville. She also enjoys books, writing, food, wine, beer, knitting, and exploring. Her research interests include community arts, arts advocacy, business development, interdisciplinary projects, digital humanities, electronic literature, experimental literature, artists' books, digital aesthetics, history of information, print culture, visual theory, and cognitive bias.